PONTOON POLISHING 101
Well, after polishing my 1995 Aqua Patio last winter (2005) I said I'd never polish another pontoon again. Well, I ended up selling my 1995 Aqua patio and purchased a New San Pan Triple Toon. So I pickup the boat last June and enjoy the boat all season. But something needed to be done. Polish the toons. So, this winter, being that the boat is used at my summer place in Michigan, I've got 7 months to get these toons all nice and shiny. OK, 5 months goes by and I finally start to work on the toons.
I'm doing all the work in one of my garages so I can stay nice and warm.
No need to really purchase all those expensive fancy liquid polishes. This is what you see the pros use on a regular basis.
I've provided info under each photo.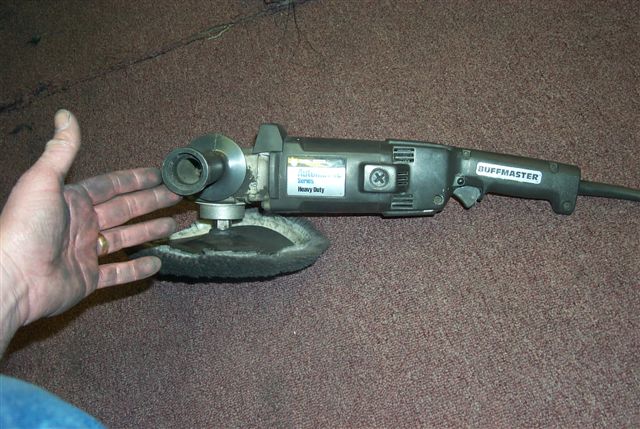 It really helps to have the correct tools. Here is my variable speed (1000 - 3000 rpm) Black and Decker commercial buffer / grinder. I purchased this a number of years ago via recommendation of a local body shop. Also shown is the 10" wool pad that I'm using. Also see below.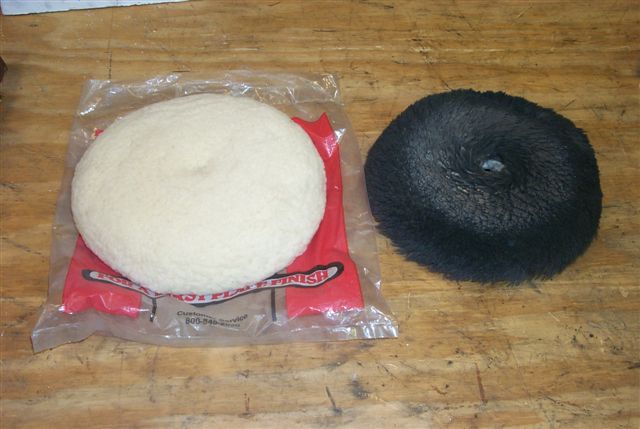 This photo shows a new pad and a used pad. The pad on the right has been used to polish approximately 14 feet of pontoon. At this point I will soak the dirty pad in soap and water to get it clean or you may throw it in the washing machine.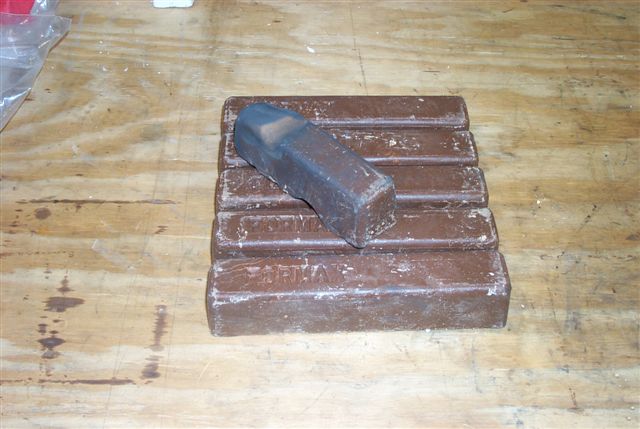 Above is my supply of commercial grade tripoli cutting compound. I've used approximatly 1/3 of a stick to compound 14 feet of pontoon. My best guess is a pontoon boat can be completed with 2 sticks (approx 5 lbs) of tripoli and a triple toon I'd buy 3 bars (approx 7.5lbs)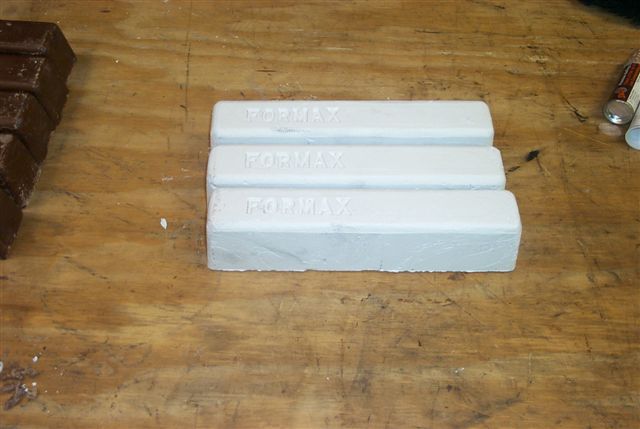 Above is the white rough that will be used as the 2nd step. Never use the same bonnet for the different cutting / polishing materials.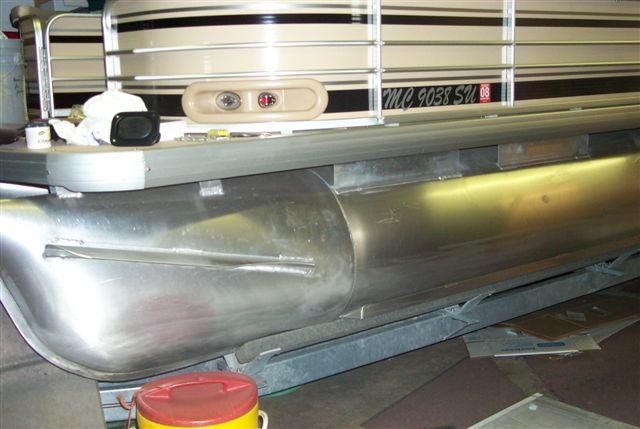 The next few photos are samples showing the condition of the toons prior to compounding. The boat was in the water last summer, I cleaned the toons with "The Works" Liquid Toilet bowl cleaner from Sam's Club. I then went over all the logs with Scotch Bright pads. Then comes the compounding.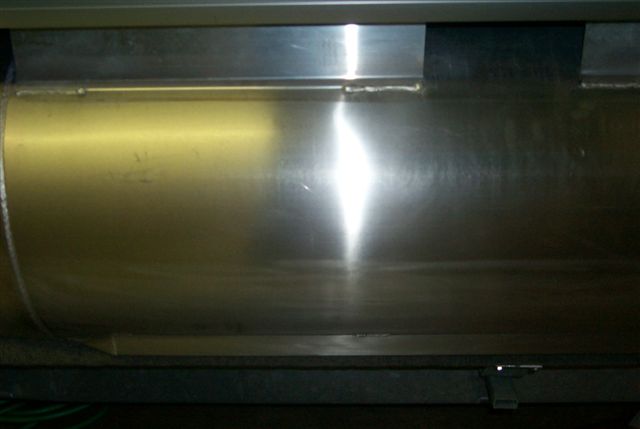 Another before photo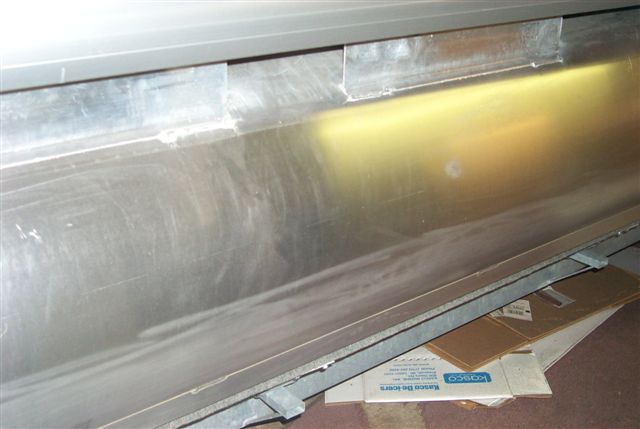 And another before photo.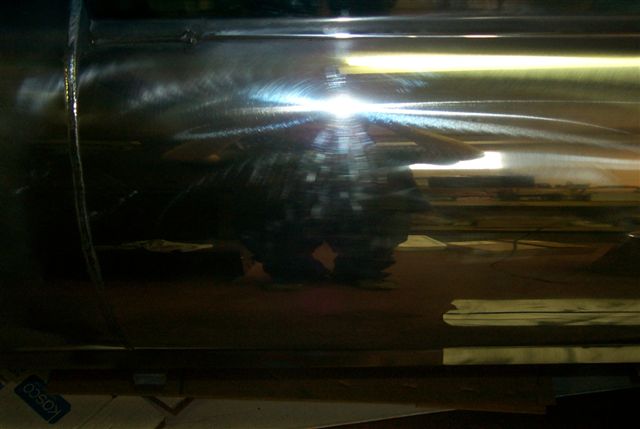 Now comes the compounding. I begin by applying tripoli to the wool pad. Buffer is running at 2600 - 3000rpm. I then begin cutting strokes to get the shine you see in this and the next few photos.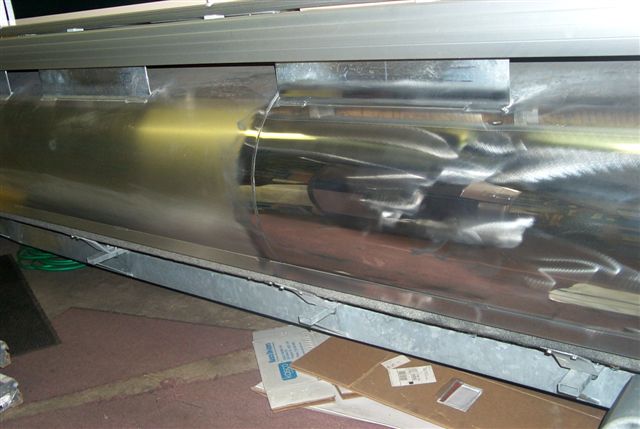 Above you can see the difference. My best guess is I'm spending about 5 - 10 minutes per foot to achieve the results you see so far. You will notice swirl marks that are created. They will disappear in the next phase of polishing.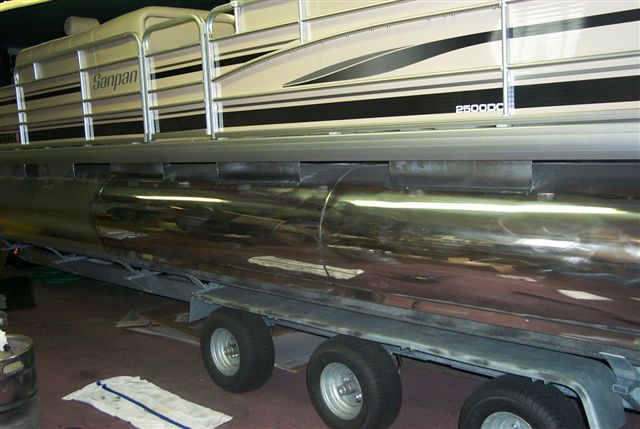 Each section of log is approx 7 feet long. Note that the above photos were taken right after the initial stage of compounding.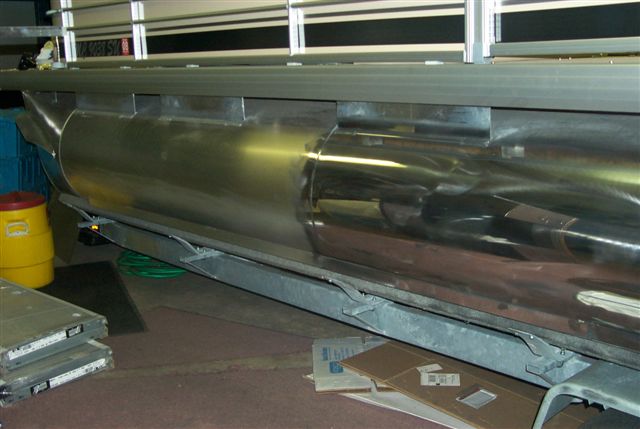 Before and after the 1st stage of compounding.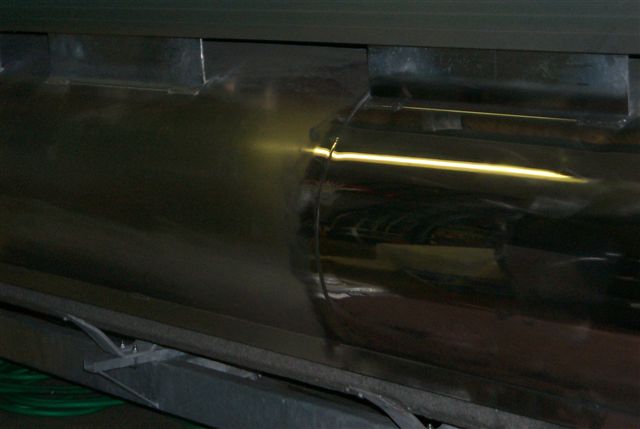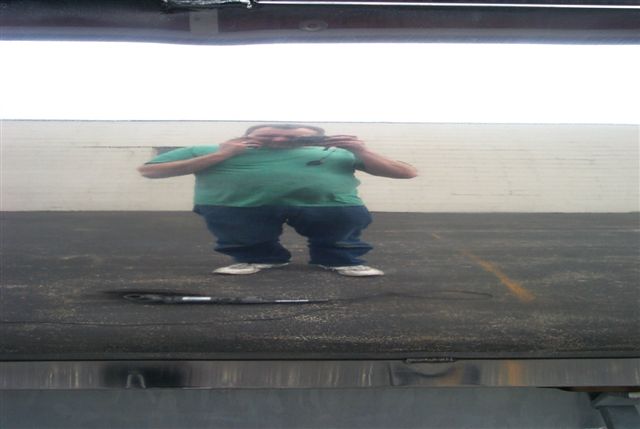 This is a photo taken outside after the 1st step, (compounding). If you look closely, right under my feet, you will see my buffer on the ground.
You are visitor
since 24 March 2006